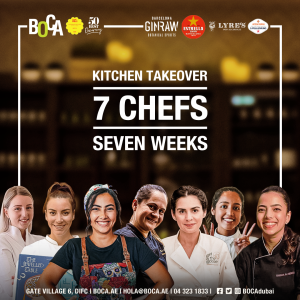 A supper club sensation, a neighborhood favorite, a catering queen, an award-winning cookbook author, a power chef under 30, a pastry mastermind, and a culinary director of a five-star property. These seven chefs are making their mark on the Dubai culinary scene and this season they take over 50 Best Discovery and 2022 Gault & Millau UAE's Sustainable Kitchen of the Year, BOCA.
Seven chefs in seven weeks; each will present you with a paired multi-course menu showcasing their journey and the culmination of their creativity. They tell their story and honor BOCA 's longstanding contribution to local sourcing and waste reduction in the kitchen.
This event is proudly sponsored by Estrella Damm, GinRaw, and supported by Lyres and S.Pellegrino.
CHEFS & SCHEDULE
ESSENTIAL KNOWLEDGE
•  Kitchen takeovers will take place from January to May 2023.
•  Each chef to feature for 3 nights. 7 weeks, 7 chefs
•  Reception 7 pm – 7:45 pm, Dinner 8 pm – 10 pm
•  AED 545++ including Estrella Damm, GinRaw, Lyre's cocktails and S.Pellegrino.
•  Confirmed bookings and payments are essential.
• Call 04-3231833, WhatsApp +971 52 160 7507, Email hola@boca.ae or DM us on Google, Instagram, Twitter and Facebook on /BOCADubai
MEET THE EXTRAORDINARY DUBAI CHEFS TAKING OVER BOCA'S KITCHEN THIS SEASON
CÉLIA STOECKLIN
January 24, 25, 26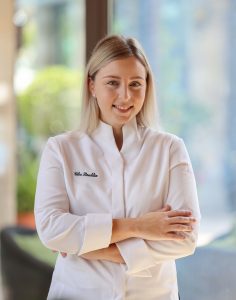 BOCA is proud to debut this series of kitchen takeovers with Célia Stoecklin, Caterer Middle East's 30 under 30 best chefs, and 2022 Hotel Young Chef of the Year. Célia is making a name for herself in Dubai's culinary scene with her strong insight, attention to detail, and pursuit of happiness for the people who run the city's kitchens. She believes that "a smile is a curve that sets everything straight."
At the age of only fourteen, Célia began her career at the 1*Michelin restaurant 'Le 7eme continent', followed by the 2*Michelin 'Il Cortile', the 3*Michelin 'Guy Savoy' and the Four Seasons Hotel George V. She recently held the helm of 'French Riviera' at the Jumeirah Al Qasr Hotel, a UAE Gault & Millau restaurant.
At BOCA, Celia will present a four-course French-Mediterranean menu featuring seasonal and fresh ingredients from the land and sea.
February 7, 8, 9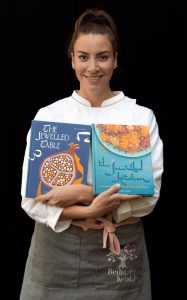 Bethany Kehdy is a Dubai-based celebrated chef, two-time best-selling cookbook author, presenter and founder of culinary experience, Taste Lebanon. Featured in numerous publications and on various TV programmes, including The New York Times, Forbes and CNN, Bethany has been leading the WANA (West Asia and North Africa) food and associated tourism scene for over a decade through her unique perspective on flavor combinations, techniques, and approach to storytelling. She uses her pen and plate to unpack the region's narrative, moving away from the term Middle East to debunk the fallacies and myths surrounding the cuisine of WANA. As someone who grew up on a farm in Lebanon, Bethany prefers to avoid the over-manipulated approach, choosing to honor nature's innate creative force to deliver dishes that are minimal yet bold, imaginative, vividly tantalizing and wholly satiating. Her chef services range from corporate events, supper clubs, residencies, and at-home chef for hire, right through to cooking classes, brand ambassadorship, and concept/ menu development.
Bethany takes over BOCA's kitchen as part of its '7 Chefs in 7 Weeks' activation, introducing a menu that will bring to life West Asian and North African favorites, incorporating locally sourced ingredients.
SARA AQEL
February 14, 15, 16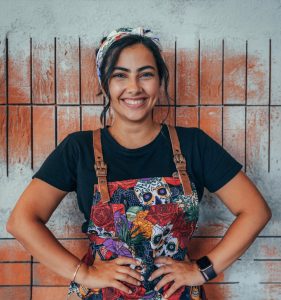 Palestinian Sara Aqel graduated in culinary arts from the Royal Academy of Culinary Arts in Les Roches before completing an internship at the prestigious 'The Hong Kong Jockey Club'
She spent time at 'Brasserie La Capitale' at the Four Seasons Hotel in Amman before working at the 1* Michelin restaurant 'Al Muntaha' at the Burj Al Arab in Dubai and Massimo Bottura's 'Torno Subito' at the W Hotel in Palm Jumeirah, Dubai. Sara recently managed the Michelin Bib Gourmand restaurant 'Fi'lia' in Dubai and led its international expansion to Miami, the Bahamas and Paris.
Sara will don her signature headscarf in BOCA starting on Valentine's Eve. She will bring her knowledge of regional Italian cuisine to the kitchen with her own style and heritage.
PENELOPE DIAZ
FUSIÓN CEVICHE JLT
March 7, 8, 9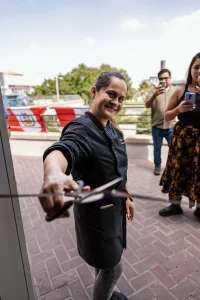 Penelope, who made ceviche at a young age, decided to bet on her heritage and passion for her native Peru. Open for less than a year, Penelope Diaz's 'Fusión Ceviche' in Dubai's Jumeirah Lake Towers is proving to be a hit with the city's top restaurateurs, prominent Dubai chefs, foodies and the city's residents alike. Her neighborhood restaurant pays homage to Peruvian ingredients and traditions, while the menu transitions from cold to hot in an explosion of flavors, textures and sensations.
Join Penelope in March 2023 as she prepares her menu of ceviches, a homage to BOCA's favorite oyster from Dibba Bay and arroz de mariscos, among other dishes.
GABRIELA CHAMORRO
GIRL & THE GOOSE
March 14, 15, 16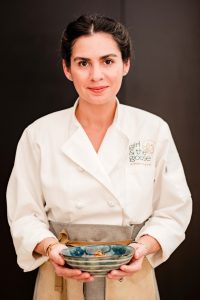 Chef Gabriela is a visionary, Latin American chef with a passion for creating unique an intimate dining experiences. As a storyteller, she takes her guests through a sensorial journey using food as her medium.
Having extensively traveled the world and immersing herself in diverse culinary practices, she has finally been able to fulfill her dream of becoming a chef. Initially self-taught and inheriting a culinary legacy passed down from her grandmother, she also possesses a specialization from the Culinary Institute of Barcelona, Spain under the mentorship of Dubai based Chef Roberto Segura.
The past 6 years have been dedicated to developing and creating healthier version of traditional recipes while, at the same time, elevating them to fine dining level. Her menus are inspired by traditional Nicaraguan recipes and all her travels around the world. For the past 3 years she ran the acclaimed 'Girl and the Goose', a Nicaraguan supper club recognized across Dubai's foodie scene.
Join Chef Gabriela in BOCA in March as she presents her new dining experience, a story of a rich cultural heritage retold through food, color and myth.
SHEERIN GHAFFAR
May 9, 10, 11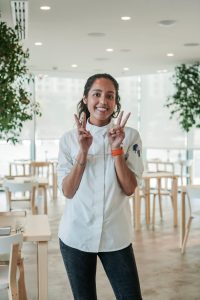 Sheerin Ghaffar's honest and authentic approach to cooking has garnered her a sterling reputation as a trailblazing, multifaceted female Chef. Hailed as Caterer ME's Pastry Chef of the Year 2022; she embraces the challenges of using local and seasonal ingredients to captivate the taste buds in a unique way while not having the ability to taste her own creations. With a distinguishable flavor profile that has been refined by her worldly travels and her Singaporean Chinese-Pakistani roots, she is best known for being a believer in the power of simplicity. Recently joining the 1* Michelin Starred restaurant; 'Hakkasan' Dubai, she plans on diving deeper into her own Chinese culture and heritage for new inspiration and creations.
During her takeover of BOCA, expect an extended pastry and dessert session, tasting some of her favorite recipes and creations.
TRISHA HENAULT
TANDOOR TINA
May 23, 24, 25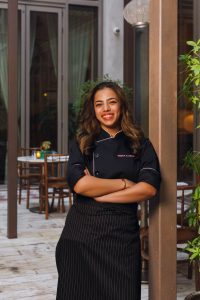 Born and brought up in Delhi, India, in a household where every meal was full of surprises, infused with her mother´s love, got Trisha intertwined with her love for food. Her experience includes 'The Leela Palace', New Delhi, India, St. Regis, W, Westin, The Bvlgari Resort and recently Executive Pastry Chef at 25hours Hotel and Tandoor Tina´s Creative Culinary director.
Recognized by Caterer Middle East as 30 best chefs under 30 consecutively twice in a row, featured one of 58 Top Indian chefs around the world by WG Magazines, and Caterer Middle East high commended Pastry Chef of the Year 2022.
Tandoor Tina celebrates fresh, local, high-quality ingredients, bold, bright flavors and specializes in cooking over fire on the grill and tandoor over. Inspired by a journey through India, Tina's adventures delve deep into the nostalgic notes of contemporary Indian flavors. The sole focus remains on a year-long summer languish where the revival of exotic aroma, tastes, and colors continue to take flight, seamlessly combining authenticity with modernity.
During her sting at BOCA in May, guests can expect a 'Tandoor Tina' tasting menu of some of their star dishes.