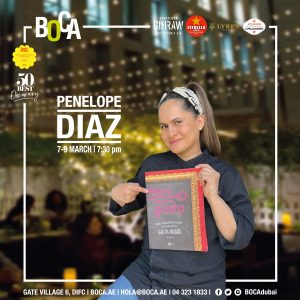 It is an inspiring story of dreams behind the next chef taking over BOCA's kitchen.
Penelope Diaz, a Peruvian woman who began her culinary journey by cooking traditional dishes in her apartment, pouring her heart and soul into each creation. With dedication and persistence, Penelope expanded her horizons and started catering in Dubai, where her clients were impressed by her delicious food. Eventually, she was able to open @fusioncevichedxb, the only traditional Peruvian restaurant in Dubai, thanks to her loyal customers and hard work.
Now, at BOCA, Penelope will showcase a five-course Peruvian menu that features fresh and authentic ingredients from her homeland. Her journey is a testament to the power of following one's passion and the rewards that come with hard work and dedication.
MARCH 7, 8, 9 | 7pm for an aperitif, followed by dinner | Five Courses including Estrella Damm, GinRaw, Lyre's cocktails and S.Pellegrino | AED 545++ | Confirmed bookings and payments are essential
Book via DM, through the phone 043231833, Whatsapp +971 52 160 7507 or email hola@boca.ae