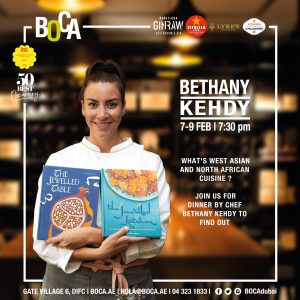 What's West Asian and North African Cuisine?
Join us for dinner experience by Bethany Kehdy to find out.
Bethany takes over BOCA's kitchen as part of its '7 Chefs in 7 Weeks' dinner series, introducing a menu that will bring to life West Asian and North African cuisine, incorporating locally sourced ingredients from BOCA's kitchen.
Bethany Kehdy is a Dubai-based celebrated chef, two-time best-selling cookbook author, presenter and founder of culinary experience, Taste Lebanon. Featured in numerous publications and on various TV programmes, including The New York Times, Forbes and CNN, Bethany has been leading the WANA (West Asia and North Africa) food and associated tourism scene for over a decade through her unique perspective on flavor combinations, techniques, and approach to storytelling. She uses her pen and plate to unpack the region's narrative, moving away from the term Middle East to debunk the fallacies and myths surrounding the cuisine of WANA. As someone who grew up on a farm in Lebanon, Bethany prefers to avoid the over-manipulated approach, choosing to honor nature's innate creative force to deliver dishes that are minimal yet bold, imaginative, vividly tantalizing and wholly satiating. Her chef services range from corporate events, supper clubs, residencies, and at-home chef for hire, right through to cooking classes, brand ambassadorship, and concept/ menu development.
Click here to see the Menu.
February 7, 8, 9 | Reception from 7 pm, Dinner 8 pm to 10 pm
West Asian & North African feast including Estrella Damm, GinRaw, Lyre's cocktails and S.Pellegrino
AED 545++
Confirmed bookings and payments are essential
Call 04-3231833, WhatsApp +971 52 160 7507, Email hola@boca.ae or DM us on Instagram