SPANISH WINE TASTING & TAPAS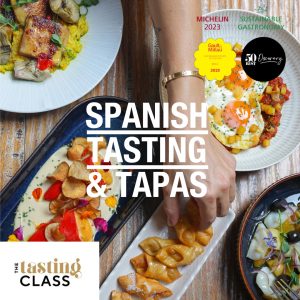 We've teamed up with our friends at the Tasting Class to bring you a series of TASTING & TAPAS from Spain.
From Cava to Rioja, Spain offers some of the most iconic wine in Europe. On this Spain-focused tasting, the team from The Tasting Class will give the nation's grapes the love they deserve and taste five Spanish grapes from some of its most famous regions, plus learn the history of tapas and why they go so well together.
What is included in the Tasting:
A selection of Spanish tapas
5 glasses of distinct Spanish grapes
Complimentary Water
A guided lesson on Spanish grapes by an educator from The Tasting Class
Sunday 17th September 2023
Sunday 15th October 2023
Sunday 19th November 2023
Time : 2:00 pm – 4:00 pm
AED 385 per person
Tickets for this event will close at 0900hrs the day prior to each event date, or earlier if sold out.
Head to The Tasting Class link to know more and to book your spot now.