BAR TAKEOVER: 7 Mixologists in 7 Weeks
Seven rising stars making their mark on the Dubai mixology scene take over BOCA's bar from August to September 2023.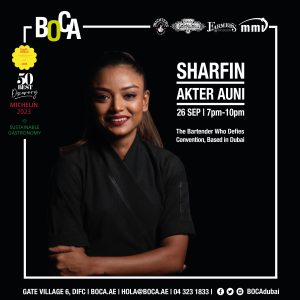 SHARFIN AKTER AUNI (SHAAZ)
The Maverick Mixologist
September 26, 2023
🍹✨ Shaaz, a maverick mixologist, defied convention to follow her fervor for hospitality. Hailing from Bangladesh, she drew inspiration from the heartfelt warmth of hospitality imprinted on her since childhood.
Determined to master the art of bartending, Shaaz embarked on a journey that led her to India, honing her craft. Eventually, she found her way to the prestigious Zuma Dubai, acclaimed as one of the World's 50 Best Bars. Today, she stands as an adept mixologist renowned for her innovation and unwavering passion.
Shaaz's muse lies in diverse cultures, the tapestry of humanity, and an ardent appreciation for the arts, including music and gastronomy. At BOCA, she artfully blends these influences, crafting cocktails that delight both the palate and the eye.
ESSENTIAL KNOWLEDGE
● See Shaaz Menu Here
● Bar takeover, 19:00 – 22:00
● Each cocktail is priced at AED 45
● Tapas, pinchos and montaditos from BOCA will be available during the event.
● Confirmed bookings are essential. Make a night of it and book a table for dinner.
Guests can book through 04-3231833, WhatsApp +971 52 160 7507, or email hola@boca.ae