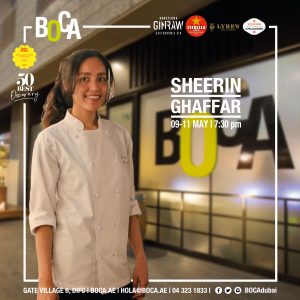 Sheerin Ghaffar's honest and authentic approach to cooking has garnered her a sterling reputation as a trailblazing, multifaceted female Chef. Hailed as Caterer ME's Pastry Chef of the Year 2022; she embraces the challenges of using local and seasonal ingredients to captivate the taste buds in a unique way while not having the ability to taste her own creations. With a distinguishable flavor profile that has been refined by her worldly travels and her Singaporean Chinese-Pakistani roots, she is best known for being a believer in the power of simplicity. Recently joining the 1* Michelin Starred restaurant; 'Hakkasan' Dubai, she plans on diving deeper into her own Chinese culture and heritage for new inspiration and creations.
During her takeover of BOCA, expect an extended pastry and dessert session, tasting some of her favorite recipes and creations.
Click here to see the Menu.
MAY 9, 10, 11 | 7pm for an aperitif, followed by dinner | Four Courses including Estrella Damm, GinRaw, Lyre's cocktails and S.Pellegrino | AED 545++ | Confirmed bookings and payments are essential
Book via DM, through the phone 043231833, whatsapp +971 52 160 7507 or email hola@boca.ae