"The greatest threat to our oceans is the belief that someone else will save them"

'An Environmentally Conscious Wine Project' 
We have produced more plastic in the past 10 years than in the entire last century, 50% of which is considered 'un-recyclable', with an estimated 8 million tons ending up in the ocean annually affecting both sea life and human health alike.* At BOCA we recognize that tackling ocean conservation is more pressing than ever, and along with our friends and partners, we invite you for a night dedicated to this cause.
On November 27th join us as we host Jo Ruxton, producer of the multi-award-winning film 'A Plastic Ocean' and founder of the Plastic Oceans Foundation. Screening a twenty minute version of her 2016 documentary, the night will include a reception with sustainable movie snacks and beverages, followed by a zero waste dinner drawing attention to lesser known local produce and maximizing usage of our food paired with environmentally-conscious drinks.
Sponsored by MMI and 10th International, a family run organization dedicated to help tackle ocean pollution through the generation of funds to key environmental projects, the evening will also include an exhibition by local environmentalist Mariska Nell of Waste Me Not. We will also introduce our friends from the private equity firm PURE CE who aim to solve some of the world's pressing environmental challenges through new technological investments, along with Kathrin Gnilka of 1001 Good Deeds; BOCA's sustainability and climate-change awareness training partner.
We also invite you to join the beach clean-up scheduled to take place on the same day in associate with Dubai Creek Club and the local non-profit marine conservation organization Azraq.
WEDNESDAY NOVEMBER 27TH 2019
RECEPTION & MOVIE SCREENING 07:00 PM – 07:45 PM | DINNER 08:00 PM – 11:00 PM
Grape guided AED 295 | Juice guided AED 195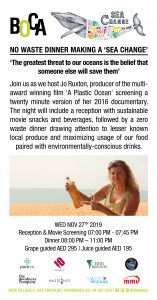 Prices inclusive of all authority fees | Booking is essential | Book on 04-3231833 and on hola@boca.ae |
*more than 300 million tons per year. Source: PlasticOceans.org