BAR TAKEOVER: 7 Mixologists in 7 Weeks
Seven rising stars making their mark on the Dubai mixology scene take over BOCA's bar from August to September 2023.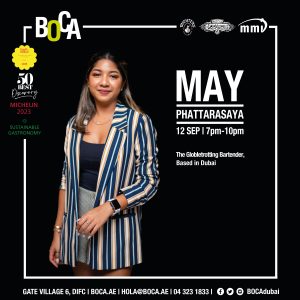 MAY PHATTARASAYA
The Globetrotting Bartender
September 12, 2023
May is a globetrotting bartender who is passionate about her craft. She has worked in some of the most prestigious bars in the world, including Nammos, Robertos, Amazonico, and Aman Hotels. She has a philosophy of "traveling the world and basking in the sun" while wholeheartedly serving drinks.
May's bartending journey has been a constant source of learning and growth. She is always eager to discover new ingredients and techniques, and she is always looking for ways to improve her skills. She is a true artist behind the bar, and she infuses each drink she creates with genuine passion and energy.
What truly sets the bar industry apart for May is the sense of family and care that permeates its essence. She has come to realize that the bar community is united by a strong bond, always looking out for one another. She has participated in numerous competitions throughout her career, and she credits her success to two essential elements: a supportive mentor and an exceptional support system.
To May, crafting cocktails is akin to creating works of art. Every drink is a canvas for her inspiration, and she strives to deliver an exceptional experience to her patrons with each pour and mix. She leaves a lasting impression on everyone she meets, and she is sure to continue to achieve great things in the years to come.
May's menu in BOCA will feature cocktails inspired by her travels around the world, as well as some of her own creations.
ESSENTIAL KNOWLEDGE
● See May's menu here
● Bar takeover, 19:00 – 22:00
● Each cocktail is priced at AED 45
● Tapas, pinchos and montaditos from BOCA will be available during the event.
● Confirmed bookings are essential. Make a night of it and book a table for dinner.
Guests can book through 04-3231833, WhatsApp +971 52 160 7507, or email hola@boca.ae