BAR TAKEOVER: 7 Mixologists in 7 Weeks
Seven rising stars making their mark on the Dubai mixology scene take over BOCA's bar from August to September 2023.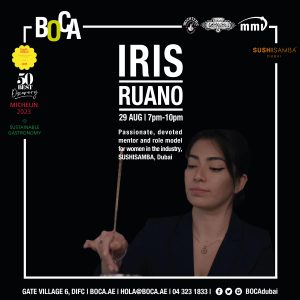 IRIS ARELY RUANO
Devoted mentor and role model for women in the industry
SUSHISAMBA, Dubai
August 29, 2023
Iris is a passionate and devoted mixologist who has been working in the hospitality industry for over 15 years. She comes from a family of hospitality professionals, and she learned from a young age the importance of hard work and dedication. Iris started her career in Mexico, working as a receptionist, hostess, and waitress. But it wasn't until she discovered the world of mixology that she found her true calling. She was fascinated by the different flavors and colors that mixologists could create, and she knew that she wanted to be a part of that world.
She moved to Dubai in 2017, and she has since built a successful career. She is known for her creativity and her attention to detail, and she is always looking for new ways to innovate. She is also a mentor to many young mixologists, sharing her knowledge and experience with them.
Iris is a true inspiration to others, and she is a role model for women in the hospitality industry. She is proof that, with passion and hard work, anything is possible.
Catch Iris in BOCA where she shares her experience and journey.
ESSENTIAL KNOWLEDGE
● See Iris's menu here
● Bar takeover, 19:00 – 22:00
● Each cocktail is priced at AED 45
● Tapas, pinchos and montaditos from BOCA will be available during the event.
● Confirmed bookings are essential. Make a night of it and book a table for dinner.
Guests can book through 04-3231833, WhatsApp +971 52 160 7507, or email hola@boca.ae