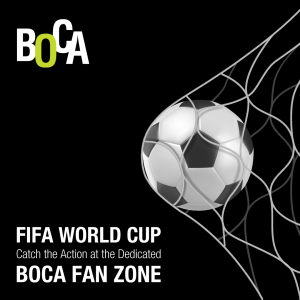 Catch all the action in our dedicated BOCA Fan Zone.
We are pleased to host a special pop-up on our terrace for the 2022 FIFA World Cup. Enjoy our exceptional food, beverage and service while watching all the games live on the big screen.
Football is not for you? Don't fret! BOCA will continue to offer you its award-winning hospitality in the rest of the restaurant, away from the commentary and action.
Click here to reserve your seat on the terrace OR your favorite BOCA experience in the restaurant.