DINNER WITH THE ARTIST | Azaïdé
8TH OCTOBER 2023, 5:00 PM
CELLAR, BOCA, DIFC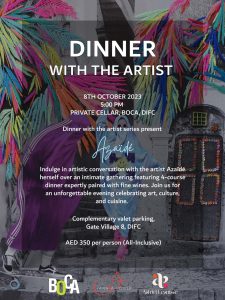 DINNER WITH THE ARTIST | Azaïdé
8TH OCTOBER 2023, 5:00 PM
PRIVATE CELLAR, BOCA, DIFC
BOCA and Fann-À-Porter present the work of Azaïdé titled "Couture Divas". This exhibition showcases vibrant and expressive pieces that celebrate independent and strong women in diverse settings. Azaïdé is a multi-faceted artist with French, Algerian, and Spanish heritage, raised in Madagascar, and has been calling Dubai her home for the past eight years.
On October 8th 2023 and for one night only, BOCA and Fann-À-Porter host dinner with the artist. Indulge in artistic conversation with the Azaïdé herself over an intimate gathering featuring 4-course dinner expertly paired with fine wines.
ESSENTIAL KNOWLEDGE
● See menu here
● Dinner 17:00
● AED 350
● Confirmed bookings are essential.
Guests can book through 04-3231833, WhatsApp +971 52 160 7507, or email hola@boca.ae