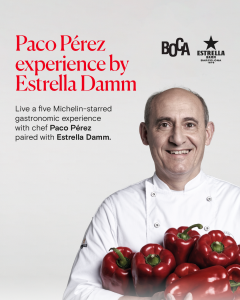 PACO PÉREZ EXPERIENCE BY ESTRELLA DAMM
Estrella Damm partners with chef Paco Pérez for a stunning gastronomic experience at BOCA, Dubai
On the 23rd and 24th of May, Estrella Damm, the beer of Barcelona, will present a unique pop-up gastronomic experience in partnership with Spanish chef Paco Pérez at BOCA restaurant in Dubai. Paco Perez, whose restaurants hold a total of five Michelin-stars will host the exclusive dinner featuring 8 small dishes, paired with Estrella Damm lager. The menu includes Paco Pérez's own creative take on classics such as lobster salad, red mullet and crema Catalana, with influences from the Mediterranean and much further afield, including Japan, in the form of a forest chawanmushi. And Estrella Damm also stars as an ingredient, as the base of chicken in a beer sauce.
May 23rd and 24th 2022 | Eight Dishes | Four Estrella Damm | AED 545 ++| Advanced booking is essential | Guests can book through 04 323 1833, WhatsApp +971 52 160 7507 or hola@boca.ae
Click here to see the menu.  
PACO PÉREZ, FROM THE MEDITERRANEAN TO THE WORLD
Paco Pérez's culinary journey started at Miramar, the 2 Michelin-starred restaurant he and his wife run on the shores of the Mediterranean Sea. Miramar is the source of his inspiration, his creativity, his philosophy, but he is also the driving force behind other restaurants around the world, including Enoteca in Barcelona, which also has 2 Michelin stars, (he has 5 in total), Arco in Poland, and Tast Català in the UK, among others.
ESTRELLA DAMM, BREWED IN BARCELONA WITH MEDITERRANEAN INGREDIENTS SINCE 1876
More than 140 years ago, August K. Damm and his wife Melanie emigrated from Alsace to Barcelona, where they fulfilled their dreams of doing what they did best: brewing beer. In 1876 they established their own brewery, having crafted and perfected a distinctive beer which was suitable for warmer climates and was very different from existing central European beers: Mediterranean lager.
Today, Estrella Damm is still brewed using the original 1876 recipe, with 100% natural ingredients: barley, hops and rice. The quality of the beer's ingredients is of the utmost importance and the brewery works closely with local farmers. Estrela Damm also has its own malting, where the finest quality malt that Estrella Damm's master brewers insist on is produced. Rice from the nearby Ebro river delta makes the beer more refreshing – a great fit for the Mediterranean climate.
BOCA – SUSTAINABILITY AT HEART
Tucked away in the heart of Dubai's financial district, BOCA is a Modern European restaurant heavily influenced by Spanish cuisine and with a strong commitment to sustainability and local sourcing.
In addition to sourcing ingredients locally and supporting local farmers and fishermen, we have stepped up our efforts to reduce waste with the help of our own Waste Officer. We continuously audit our kitchen and bar operations, refuse single use plastic from suppliers and to customers, operate a demand-driven inventory, and prefer working with like-minded partners across the value chain.
Advanced booking is essential. Prices are inclusive of 5% VAT and subject to 7% authority fees, and 10% service charge. We regret that we are unable to accommodate dietary restrictions with this menu. Confirmed bookings are essential. Guests can book through 04-3231833, WhatsApp +971 52 160 7507 and hola@boca.ae
OPERATIONAL HOURS
Under current regulations (updated February 2022) BOCA, located in Gate Building 6, DIFC, is open all week from 12:00pm to 3:00am.
GET DAILY UPDATES ON PROMOTIONS FROM OUR SOCIAL MEDIA PAGES
Twitter @BOCAdubai | Instagram @BOCAdubai @LATAPERIADXB | Facebook: www.facebook.com/bocadubai www.fb.com/LATAPERIADXB | #BOCAdubai #LATAPERIADXB
FOR MEDIA ENQUIRIES PLEASE CONTACT
CLARA MILLES | clara@boca.ae | +971 50 2590773