BAR TAKEOVER: 7 Mixologists in 7 Weeks
Seven rising stars making their mark on the Dubai mixology scene take over BOCA's bar from August to September 2023.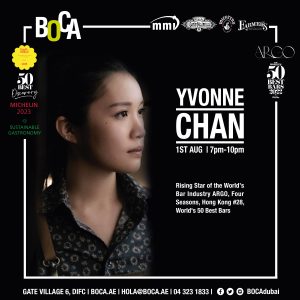 Yvonne Chan
Rising Star of the World's Bar Industry
ARGO, Four Seasons, Hong Kong
#28 World's 50 Best Bars
August 1st, 2023
Yvonne is making a name for herself in the global bar scene with her strong passion for gin, commitment to sustainability, and innovative cocktail creations. She began her career at Ori-Gin Bar and Dr. Fern's Gin Parlour, where she learned the fundamentals of bartending. Her love of gin led her to The Old Man in Hong Kong, where she quickly rose to the position of head bartender. In 2019, she was named a Rising Star by both The Bar accolades Hong Kong & Macau and Time Out Hong Kong Bar Awards.
In June 2021, Yvonne joined ARGO as head bartender. In this role, she works closely with the team to create an innovative cocktail program that explores the impact of the environment on our dining and drinking experiences. Under her leadership, ARGO has risen to incredible heights, winning the third spot on the list of Asia's 50 Best Bars and the 28th spot on the list of the World's 50 Best Bars in 2022. Yvonne is also an active participant in cocktail competitions, where she continues to hone her craft. She is also passionate about sharing her love of bartending with others, and she regularly travels the world to meet with fellow professionals and share ideas.
Yvonne is a true inspiration to the bar industry, and she is sure to continue to achieve great things in the years to come. At BOCA, Yvonne will present a cocktail menu featuring local ingredients from Hong Kong
This is an event you don't want to miss! So mark your calendars and join us for an evening of delicious food, innovative cocktails, and inspiring conversation with Yvonne Chan.
ESSENTIAL KNOWLEDGE
See Yvonne's Menu here
Bar takeover, 19:00 – 22:00
Each cocktail is priced at AED 45
Tapas, pinchos and montaditos from BOCA will be available during the event.
Confirmed bookings  are essential. Make a night of it and book a table for dinner.
Guests can book through 04-3231833, WhatsApp +971 52 160 7507, or email hola@boca.ae, Instagram, Twitter and Facebook through /BOCADubai