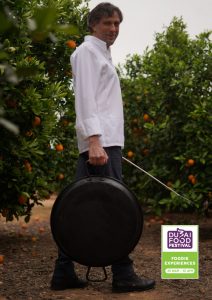 Check out video of the event under this link
Between April 4th and 7th, and part of Dubai Food Festival 2021, BOCA is proud to host a series of paella masterclasses and a special dinner with visiting paella master from Spain and renowned Valencian chef, Vicente Rioja.
Flown in from Valencia, Spain to Dubai via the Tratok network (Tratok is a UAE-based travel start-up and main sponsor of this event) Chef Vicente Rioja, head chef and owner of Restaurant Rioja de Benisanó (Michelin Guide), a historic restaurant established in 1924, is famous for making one of the best traditional paellas in Valencia. Chef Vicente just finished an online paella masterclass with Quique Da Costa (3* Michelin) for his Arros QD in London. He is also a collaborating teacher at the Institute of Spanish Gastronomy and the Basque Culinary Center.
For the two scheduled masterclasses and the special dinner, Chef Vicente will work alongside BOCA's Chef Matthijs Stinnissen to create paella recipes that pay tribute to local ingredients and flavors from the UAE. The masterclasses will be a relaxed affair where guests will learn from one of Valencia's most-recognized paella chefs. Taking place at the Gastrobar, guests will snack on a selection of cold and hot tapas while watching Chef Vicente at work and then get to indulge in his celebrated signature dish. The special one-off dinner is co-hosted by Ignacio Arzuaga of Bodegas Arzuaga who will complement the menu with six premium wines from their Ribera del Duero vineyards.
Sunday 4th and Monday 5th April 2021, 1 PM – 4 PM | Paella Masterclass with Chef Vicente Rioja including spread of cold and hot tapas followed by paella – AED 249 per person including water.
Wednesday 7th of April, 7:30 PM and 9:30 PM | Dinner by Chef Vicente Rioja and Chef Matthijs Stinnissen. Spread of premium cold and hot tapas including paella and paired premium beverages– AED 395 per person.
Advanced booking and payment are essential. Prices are inclusive of 5% VAT and subject to 7% authority fees and 10% service charge. We regret that we are unable to accommodate dietary restrictions at this event. Spaces are limited and confirmed bookings are essential. Guests can book through 04-3231833 and hola@boca.ae