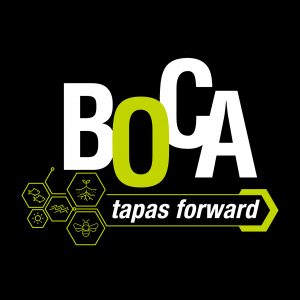 TAPAS FORWARD
a delicious & responsible tasting experience
BOCA's philosophy has always been simple – to serve responsibly what is good and delicious in a friendly and exciting atmosphere and share it with like-minded people. Sourcing ingredients locally and supporting local farmers and fishermen is paramount to our operation. We have also recently stepped up our efforts in maximizing the usage of "by-products" and auditing our kitchen and bar waste. Sustainability, however, is more than just refusing plastic and separating glass; it is a journey and a frame of mind.
Over the last few years we have come across many individuals who share the same values. We have also experimented with flavors of unusual local products, discovered what can grow in the desert and in our seas, and explored what can be done with what is traditionally considered waste.
Keeping flavor and deliciousness as a priority, we bring you findings from our work; an off-menu experimental food and wine tasting experience featuring lesser-known local crops, sustainable seafood, and artisanal and ethical produce from local farmers and from friends abroad. The experience will also showcase BOCA's efforts with waste reducing techniques.
This single-seating weekly experience is limited to five guests and is hosted on BOCA's gastrobar by head chef Matthijs Stinnissen alongside BOCA's directors and sommelier.
Tuesdays at 07:30 pm | Five seats only | Reception, eight courses, five wines or juices – AED 395 | Advanced payment and booking required | Guests can inquire and book through tapasforward@boca.ae | Prices are inclusive of 5% VAT | Prices subject to 7% Authority Fees and 10% service charge