BOCA HOSTS SPECIAL DINNER IN HONOR OF FLAVOR ENHANCING TECHNIQUES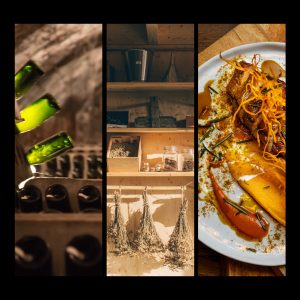 Click here to see video from the event.
Aging, fermenting, smoking, braising, curing, and infusing are all methods used to develop and improve flavor in food and drink. These methods are said to have also been humanity's attempt to preserve time.
Join us on March 17th for an intimate dinner with special guest Xavier Gramona, champion of aging and head of the family-owned estate, Gramona, from Penedés, Catalunya, Spain led by head chef Matthijs Stinnissen. The specially curated six-course menu honors preservation and flavor enhancing techniques and includes dishes such as "24-HOUR COMPRESSED TOYBOX TOMATOES" with Haden Mango 'egg yolk', "MAGRET DE CANARD & CELERIAC" with 12-day salt crusted celeriac, celeriac pickled in elderflower vinegar, and buttermilk ricotta and a "FERMENTED CARROT CAKE" with tarragon jam, and miso caramel ice cream.
Dinner will be paired with six prized wines from the biodynamic and highly sustainable estate of Gramona including their signature long-aged Cava, and wines made with the ancient Xarel-lo [shah-rell-lo] grape. A vertical tasting option of three vintages of an additional premium wine from the house of Gramona will be available during the evening by Coravin.
Click here to see the full menu.
This special dinner is limited to forty seats and available for one night only on March 17th, 2021 from 7:30 PM. Advanced booking and payment are essential.
AED 295 per person for food only. AED 445 per person for a paired dinner.
Prices are inclusive of 5% VAT and subject to 7% authority fees and 10% service charge.
We regret that we are unable to accommodate dietary restrictions at this event.
Spaces are limited and confirmed bookings are essential.
For bookings: 043231833, hola@boca.ae, online link or WhatsApp on +971521607507