BAR TAKEOVER: 7 Mixologists in 7 Weeks
Seven rising stars making their mark on the Dubai mixology scene take over BOCA's bar from August to September 2023.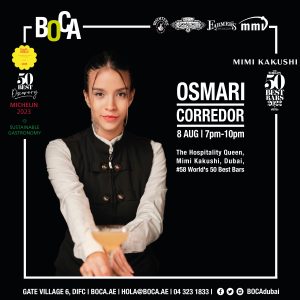 OSMARI CORREDOR
The Hospitality Queen
Mimi Kakushi, Dubai
#58 The World's 50 Best Bars
August 8, 2023
Osmari is a true believer in the power of hospitality and in making a difference in people's lives. She believes that every guest should feel like they are a friend, and she goes above and beyond to create a warm and welcoming atmosphere. She is also a talented bartender, constantly innovating and creating new cocktails.
Osmari was born in Venezuela and grew up in Colombia, where she developed her love of bartending and hospitality. She has worked at some of the best bars in the world, including Alquimico in Cartagena (ranked #10 on the World's 50 Best Bars list in 2022) and Mimi Kakushi in Dubai (ranked #58 on the World's 50 Best Bars list in 2022).
At BOCA, Osmari will create a cocktail menu showing her passion for hospitality. Each cocktail will be custom-made for the takeover.
ESSENTIAL KNOWLEDGE
● See Osmari's Menu here
● Bar takeover, 19:00 – 22:00
● Each cocktail is priced at AED 45
● Tapas, pinchos and montaditos from BOCA will be available during the event.
● Confirmed bookings are essential. Make a night of it and book a table for dinner.
Guests can book through 04-3231833, WhatsApp +971 52 160 7507, email hola@boca.ae, DM on Instagram, Twitter and Facebook through /BOCADubai