BAR TAKEOVER: 7 Mixologists in 7 Weeks
Seven rising stars making their mark on the Dubai mixology scene take over BOCA's bar from August to September 2023.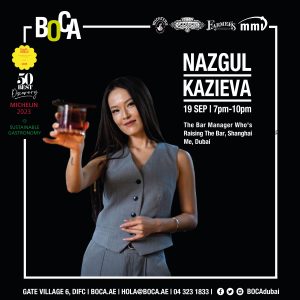 NAZGUL KAZIEVA
Raising the Bar in the Industry
Shanghai Me, Dubai
September 19, 2023
Nazgul Kazieva is a passionate and creative bar manager who is shaking up the bar industry with her innovative ideas and commitment to sustainability. With a strong background in bartending and a bachelor's degree in psychology, Nazgul is able to combine her expertise in both fields to create an unforgettable bar experience.
Nazgul's commitment to sustainability is evident in her work at Shanghai Me Dubai. She has worked with the team to create an innovative cocktail program that explores the impact of the environment on our dining and drinking experiences. She is also a strong advocate for open-mindedness and diversity in the bar industry, and she is always looking for ways to foster strong relationships with fellow professionals worldwide.
Nazgul is a true inspiration to the bar industry, and she is sure to continue to achieve great things in the years to come. She is a shining example of how bartending can be a force for good in the world, and she is a role model for aspiring bar managers everywhere.
At BOCA, Nazgul will be creating a menu that showcases her passion for cocktails and her commitment to sustainability. The menu will feature cocktails made with locally-sourced ingredients and sustainable practices, as well as some of Nazgul's own creations.
ESSENTIAL KNOWLEDGE
● See Nazgul's menu here
● Bar takeover, 19:00 – 22:00
● Each cocktail is priced at AED 45
● Tapas, pinchos and montaditos from BOCA will be available during the event.
● Confirmed bookings are essential. Make a night of it and book a table for dinner.
Guests can book through 04-3231833, WhatsApp +971 52 160 7507, or email hola@boca.ae