BAR TAKEOVER: 7 Mixologists in 7 Weeks
Seven rising stars making their mark on the Dubai mixology scene take over BOCA's bar from August to September 2023.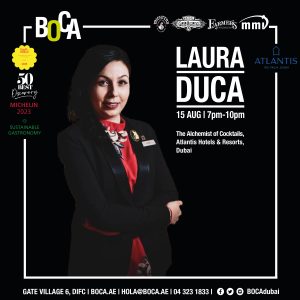 LAURA DUCA
The Alchemist of Cocktails
Atlantis Hotels & Resorts, Dubai
August 15, 2023
We are excited to announce the return of one of our stars 🌟🍹 Laura Duca, our former manager, back for one exclusive night.
Dubai has been her home for 12 years, where she crafted her skills across restaurants, nightclubs, and charming venues. What began as a temporary gig blossomed into a lifelong passion, establishing Laura as one of Dubai's most respected mixologists.
A perpetual student, Laura's quest for improvement knows no bounds. She's won numerous cocktail contests, proudly representing Romania. A guiding light to budding mixologists, Laura generously imparts her wisdom and expertise.
For Laura, cocktails are canvases of self-expression and storytelling. With each creation, she weaves an artful masterpiece, and every sip is a journey.
Laura is a true alchemist, transforming simple ingredients into complex and delicious cocktails. She is a master of her craft, and she is sure to have a lasting impact on the industry.
At BOCA, Laura's menu will feature cocktails inspired by different cultures and time periods, each with its own captivating tale. 🌍🕰️
ESSENTIAL KNOWLEDGE
● See Laura's menu here
● Bar takeover, 19:00 – 22:00
● Each cocktail is priced at AED 45
● Tapas, pinchos and montaditos from BOCA will be available during the event.
● Confirmed bookings are essential. Make a night of it and book a table for dinner.
Guests can book through 04-3231833, WhatsApp +971 52 160 7507, or email hola@boca.ae