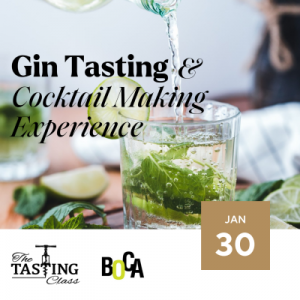 Fancy a Gin?
This is an event where you make the cocktails with us, all while learning about the incredible history of gin and the stories behind the drinks we make. You'll learn about gin's birth, the gin craze, the invention of bathtub gin all the way through to the craft gin revolution which we are in the midst of now. We start with a neat gin tasting and talk about how it's made. Then break up a history lesson by making and drinking 3 different cocktails. We will make a Gin & Tonic, Tom Collins and a Negroni, all while learning the stories behind these great drinks
What's included in the experience?
Taste 3 different samples of gins
4 gin cocktails
A selection of light tapas dishes
Cocktail making and interactive lesson by The Tasting Class
BOCA, Dubai
Date: Sunday 30 January 2022
Time: 3 PM – 6 PM
Click here to book and to find out more.