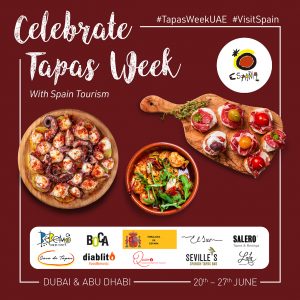 Tapas Week is a celebration of unique Spanish culinary delights at UAE's iconic Spanish restaurants. Join us and the Spanish Tourism Office from 20-27 June and celebrate the glorious tapa with the world.
Enjoy a week of promotional menus at BOCA as well as Bebemos, Casa de Tapas, Lola, Quiro, El Sur, Salero and Seville's in Dubai and Diablito in Abu Dhabi. Menus from AED 40 for 1 tapa + 1 drink.
Rate the restaurant that serves the best tapas and vote on social media. Take your best photo of the tapas and upload it. Tag @Spain @SpainintheUAE on Instagram or @Spain.info.me on Facebook and the restaurant you visited. The best photo wins a meal voucher & other exciting prizes.
Click here to see our Tapas Week menu.
For bookings and payments: 043231833, hola@boca.ae, or WhatsApp on +971521607507