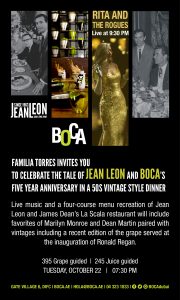 On Tuesday, October 22nd, 2019, BOCA invites you to celebrate the legendary tale of Jean Leon and BOCA's five year anniversary at a quintessential 1950s dinner party. Flying in from the UK for one night only to perform live at this event are the vintage-style performers Rita and the Rogues.
JEAN LEON
The story of Jean Leon is that of a 19-year-old from Santander, Spain who went to New York where he worked as a cab driver, a busboy, and a waiter at Frank Sinatra's restaurant. There he met the biggest stars from Paul Newman and Marilyn Monroe to Zsa Zsa Gabor and James Dean. With the latter, he opened La Scala in Beverly Hills. It became the top choice for the era's biggest celebrities. Click to watch this 1 minute video about Jean Leon
MARILYN'S LAST MEAL
Jean Leon was a confidante of Hollywood heavyweights of the time and had many personal encounters with them; the most delicate being the last night of Marilyn's life (August 5th, 1962). Marilyn most likely called him because she wanted to dine at home and he personally delivered one of her favorites: Fettuccini. In fact, every dish on the menu in his restaurant was named after a star.  One of the most memorable was, of course, the "Fettuccini Marilyn" which, as one might expect, President John Fitzgerald Kennedy was particularly fond of…
For BOCA's fifth year anniversary we have re-imagined a four-course menu from La Scala Restaurant had Marilyn decided to dine in rather than take out that night in 1962. Could things have ended differently?
Dishes will include Frank's Foie Salad with haricots beans and truffle vinaigrette, Fettuccini Marilyn with clam & mussel velouté, and Striploin Tagliata a la Zsa Zsa with sun-dried heirloom tomato and Manchego cheese, all paired with recent vintages from Jean Leon's estate in Penedès, Spain.
See event menu below
BOCA Celebrates 5 Years in 1950s Dinner Party – October 22 2019 – MENU
TUE, OCT 22nd 2019
07:30 PM | RITA & THE ROGUES LIVE FROM 09:30 PM
Grape guided AED 395 | Juice guided AED 245
Prices inclusive of all authority fees | No service charge or tips included | Booking is essential | Guests can book on 04-3231833 and on hola@boca.ae | Jean Leon menu is limited to 60 guests on a first come first serve basis | A limited set menu of AED 195 for food only is open for additional guests | Bar space is available for walk-ins on a first come first serve basis