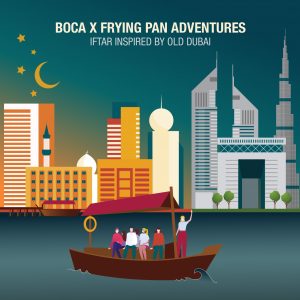 BOCA X FRYING PAN ADVENTURES
IFTAR INSPIRED BY OLD DUBAI
The past year was turbulent, but our local community has emerged stronger. This Ramadan we are proud to introduce a collaboration between two teams that represent different sides of Dubai with a parallel passion for flavors, cultures and stories. This is a series of dishes that is as much our joint tribute to the timeless flavors of Old Dubai as to the innovative spirit of New Dubai.
BOCA and Frying Pan Adventures will host a daily iftar throughout the month of Ramadan inspired by flavors from the latter's tours over the years. The team behind Frying Pan Adventures worked with BOCA's Chef Matthijs Stinnissen to curate a menu that pays tribute to dishes and flavors from the most popular restaurants in Old Dubai.
Click on the video link below for some background on the two Frying Pan storytellers or click here to take the virtual tour that inspired this menu. 
Expect a modern take on tour favorites. Some of the dishes anticipated include a version of a Palestinian tour hit, 'Chilli and Sumac Stuffed Falafel', a take on a popular Levantine mezze 'Home-Made Labneh Empanadas', 'Charcoal Grilled Mackerel and Pomegranate Molasses' a la Iraqi Masgouf, and BOCA's version of 'Iranian Kebabs Marinated in Black Lime'. A slow cooked Moroccan Tangia made with '12-Hour Braised Lamb with Saffron and Lemon Preserve' is also said to be in the works.
No Ramadan Iftar meal is complete without 'Kunafa', so a version of the cheesy dessert is also in the development stage in BOCA's kitchen alongside other knockouts such as 'Jallab Ice Cream with Pine Nut Brittle'. A tribute and a mention of the Frying Pan Adventures restaurants and spice shops that inspire the dishes will be visible on the menus in BOCA.
The sharing Iftar set menu for two will include water, fresh juice, coffee, and tea and will be on offer daily in BOCA for AED 160 per person from sunset until 9 pm.
Click here to see this week's menu.
Frying Pan Adventures has produced an online spice guide, 'The Ultimate Guide to The Spice Souk', a mobile-friendly guidebook about spices and herbs, considered as a virtual ticket to the intriguing alleys of Dubai's historic spice souk. The guide is available for purchase on the Frying Pan Adventures website for AED 50 and will be promoted through the menu on offer during Ramadan through this collaboration. BOCA wants all of its staff members to be knowledgeable of all these spices and have access to the guide, so for every 10 guides downloaded by guests throughout Ramadan, BOCA will purchase and download a copy for its team.
Ramadan Kareem.
Advance booking and payment are essential. Prices are inclusive of 5% VAT and subject to 7% authority fees. Spaces are limited and confirmed bookings are essential. For bookings at BOCA please contact 043231833, hola@boca.ae, online link or WhatsApp on +971521607507