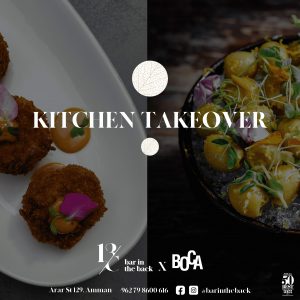 13C bar in the back, ranked 27th on Middle East North Africa's 50 Best Restaurants™ and one of Amman's long standing and finest establishments is proud to host Chef Matthijs Stinnissen from leading sustainable fine dining restaurant, BOCA Dubai for one night only on July 2. 
Chef Matthijs Stinnissen, Head Chef at BOCA, is flying to Amman, Jordan to take over the kitchen of 13C bar in the back. He will present an 8-course sharing menu featuring dishes that highlight BOCA's work with what is traditionally considered waste, in addition to classics from the restaurant's current menu.
BOCA and 13 bar in the back share a Mediterranean food heritage and a love for interactive food pairing experiences. Expect to see dishes such as YESTERDAY's BREAD made with stale sourdough, tomato skin powder, revived milk ricotta, avocado, and Aceto Sopraffino, MISO CARAMELISED HAMACHI with confit turnip, crispy black rice, mizuna, purslane, and parsnip puree and BRAISED BEEF SHORTRIB served with truffle and herb risotto, crispy mustard seed, and mustard cress. For dessert Chef Matthijs will present two dishes including his beloved TOMATO & STRAWBERRY made with pink beef tomato, violet infused red fruit sorbet, and strawberry tartare.
ABOUT 13C bar in the back
Passion is a remarkable driving force/ 13C is the product of years of traveling, tasting, and winemaking by three wine obsessed friends / a sommelier, a winemaker, and a wine trader. Building on the proud foundations laid in 1954 by the late Bulos Y Zumot / 13C is a new chapter for Bulos Y. Zumot & Co, one of the oldest wine & spirits distributors in Jordan.
We've tasted and handpicked every bottle in our store and created 13C for you to discover and enjoy our selection. Named after the optimal temperature to store wine, we offer a space that is accessible, inspiring and empowering for wine lovers, whisky geeks & novices alike – a place unlike any other in Amman.
JULY 2nd 2022 | Eight Dishes | JD 75 ++| Advanced booking is essential | Guests can book through 0096279860 0616