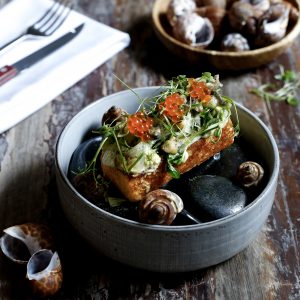 BOCA Explores New Native Local and Regional Ingredients in Latest Menu Release
An abundance of local and regional seafood and fish is in season, and the land is rich with fresh produce. In this menu edition, our kitchen uses only locally grown tomatoes from Pure Harvest Farms, and a new aromatic native desert plant called 'Shih' شيح makes its debut. We want you to try local sea snails and Dibba Bay's summer oysters, and strongly recommend you do not skip the 'Arrocito con Ostra', a recipe developed with paella master Vicente Rioja from Benisanó. Do not miss out on the cheese course, where we introduce a rare variety from Lebanon and celebrate Cypriot Halloumi finally getting the PDO status it deserves. We have kept all the BOCA tapas favorites, of course.
Tasting Menu
BOCA is offering a tasting menu of ten dishes recommended for sharing between two guests for AED 345 pp including water and AED 495 pp including five wines from vineyards that are certified biodynamic, organic, or sustainable with a focus on native grape varieties.
Check out some of the newly launched dishes below or click here to see the new menu. 
For bookings: 043231833, hola@boca.ae, or WhatsApp on +971521607507