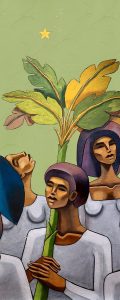 Hady is an independent Egyptian visual artist who studied art in Cairo. He has had four solo exhibitions and spread his artwork internationally through residency programs, workshops and exhibitions Boraey in Italy (2010), Greece (2011), England (2012), United Arab Emirates (2022, 2013), Jordan (2014), Poland (2016), Belgium (2018), Italy (2021). Boraey's work can be seen in Canada, Belgium, Italy, Spain, Jordan, United Arab Emirates, United Kingdom and Egypt.
In Eden Dance, Hady has been experimenting with painting, drawing and sculpture for 20 years. He aims to take his viewers on a journey, opening the mind to new perspectives and blurring the lines between body and soul.
Eden Dance was born out of the pandemic and the desire to reconnect with nature. The collection represents a rich and textured fantasy world. Stoic figures take center stage in almost every artwork. Sharp facial features are made sharper by their geometric figures – a stark contrast to the muted backgrounds that lie behind them. Cacti, leaves, and budding plants represent an obvious desire to connect not only with nature, but also with the outside world beyond the confinement and isolation of the prison.
The sun, stars, and birds appear in some paintings, breathing life into the collection and suggesting that the figures are actually outside. The figures look up longingly at the starry or sunny sky, in others they dance in an almost spiritual appreciation of nature. And in still others, they seem to simply be at peace.
Catch Hady Boraey's Eden Dance exhibition in BOCA from June 9th .
Book through Hola@boca.ae +971 4 323 1833 or Whatsapp +971 52 160 7507