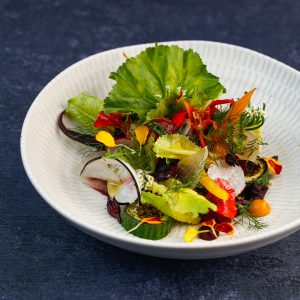 'SPRING IN THE DESERT' with native UAE desert plants
DUBAI, UAE – FEB 2021: – "We have the sun, the sea and the sand. And if we can grow food using the three S's, which are abundant here, we have a solution for the world." H.E. Mariam Bint Mohammed Almheiri, UAE Minister for Food Security.
Tucked away in the heart of Dubai's financial district is BOCA, a Modern European restaurant influenced by Spanish cuisine and with a strong commitment to sustainability and local sourcing. BOCA is a home-grown concept, born in the desert, and we have consistently showcased the UAE as being far from a barren land. The Hajar mountains of the North are biologically rich habitats, while the Central Region's oases are home to modern hydroponic, organic, and traditional farms, and the bounty from the Arabian Gulf and the Indian Ocean is plentiful. We live in abundance; we just have to look a bit closer and work slightly harder.
We are extremely excited to unveil new food, beverage, and wine menus for this season; an accumulation of research, travel, trials, and ideas shared with farmers, botanists, municipalities from multiple Emirates, scientists from the ICBA (International Center for Bio-saline Agriculture), and artists represented by the Jameel Art Center. Building such partnerships helps us understand the country's landscape, its soil structure, edible wild native plants of the region and how they were consumed in the past.
For the first time, we feature four types of native desert plants from the UAE. Some are seasonal, some are rare, but they come together in the signature salad 'SPRING IN THE DESERT' made of Khobez خبيز, Homaid حميض , Seedaf سيداف , and Pickled Khansour خنصور الجبل together with five-day aged local beetroot. The taste profile of these native plants ranges from the extremely bitter to the slightly salty. We use them fresh and pickled while balancing them with the sweetness and acidity of other ingredients. Try them as well in our 'ORECCHIETTE VERDE' pasta dish. We have found that some of these plants are good complements to standard herbs. They particularly work well in a vinaigrette for 'DIBBA BAY OYSTERS' which make a come-back in this menu edition and we also use them next to rosemary in our classic '12-HOUR BRAISED LAMB.'
The new menu features a 'SEAFOOD CEVICHE' made entirely of local and regional seafood (Gulf of Oman yellow-fin tuna, marinated local squid, torched tiger prawns, slow-cooked Indian Ocean octopus, and Arabian Gulf clams) and an 'EMIRATI KINGFISH كنعد CRUDO' with local edible flowers and herbs from Mary Anne's Farm on the way from Dubai to Al Ain. We have replaced the Atlantic cod with local sustainable 'ROASTED HAMOUR' served with beurre noisette & mustard jus, potato mousseline, and pickled Khansour خنصور الجبل and added an 'EMIRATI SEA BASS RAVIOLI' with Arabian Gulf sardine beurre blanc.
Other highlights in the menu include dishes inspired by the recent collaboration with 'meat melt', the local salt beef purveyors, a new 'VEGAN PAELLA' with heirloom carrots, black & red radish, and black garlic allioli, and an 'ARROZ CON CARNE' made with free-range braised lamb, local root vegetables, and ras el hanout.
New desserts such as 'VANILLA RICE PUDDING' with Local Black Lime لومي Sabayon, 'SPANISH ORANGE & SAFFRON CHEESECAKE' and 'MARINATED FIGS & DARK CHOCOLATE' made with hazelnut ice-cream, guanaja chocolate mousse, and Emirati "Blossom" honeycomb also make the list. Click here to download the new food menu
This season we are also excited to unveil our own 'DESERT GARDEN' inspired by the 'Desert is a Forest' installation at the Jameel Art Center in Jaddaf, Dubai by Sunoj D and Namrata Neog. In this outdoor urban garden, we feature eight native desert plants sourced from multiple municipal nurseries across the UAE. The 'DESERT GARDEN' will be used to show edible native plants to our guests and to serve as a platform for us to experiment with more of them in the future. These desert plants and other ingredients from the menu feature in the booklet we have produced, "LOCAL INGREDIENTS: An Illustrated Guide". Click here to download the guide. 
On the wine side, our cellar is now home to a collection of 1,830 bottles from 240 labels, 69 of which are offered by the glass, including selections from the Coravin and two vertical tasting options. 40% of this list is Spanish listing 23 of the 138 official DOs and IGPs in the country with a focus on 'smaller' and upcoming regions such as Castilla VT & Conca De Barberà, Montsant, Somontano, and Toro DOs among others that may be currently producing the world's future stunners. In line with BOCA's philosophy to stand with regional producers, we also feature wines from countries close to our home including Syria, Lebanon, Georgia, Greece, Turkey, and Morocco. Other highlights include the low sugar and orange wine section and the inclusion of 'dealcoholized' wines. Our fascination with 'fortified' wines continues, listing 26 of them showcasing grapes from Spain, Portugal, Italy, Greece, and Hungary. Click here to download the new wine menu
The cocktail list now features drinks that are a result of our bartenders and our internal waste officer collaborating. Our bar team is mandated to move at least one cocktail per month into the 'no waste' section of this menu. Expect to see pineapple pulp turned into lollies for garnish, local yellow peppers dehydrated and crushed into rimming salts and passionfruit shells turned into coasters. We have also added a 'TOOTH FAIRY' section featuring dessert cocktails such as 'BOCAMISÙ' made with whiskey, Amarula, espresso, mascarpone, and Savoiardi biscuits and 'JELLYSTONE' with gummy bear-infused vodka, cranberry juice, lemon juice and a gummy bear stick. Click here to download the new cocktail menu. Click here to download the new cocktail menu
To celebrate the launch of these new menus BOCA is offering a tasting menu made of eight dishes recommended for sharing between two guests for AED 495 for food only and AED 695 including a bottle of Prosecco Rose from 'SEA CHANGE': an environmentally conscious wine that directly supports ocean conservation across the globe. This set menu price is at least a 20% discount on a la carte prices and a great way to get to try some of the newly launched dishes. Click here to download the new set menu
– ¡Salud!-