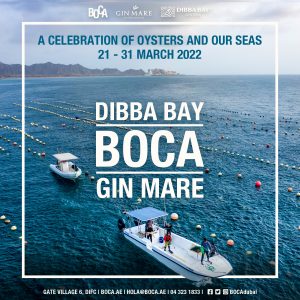 A CELEBRATION OF OYSTERS AND OUR SEAS
BOCA, Dibba Bay Oysters and Gin Mare host a ten-day celebration featuring special promotions and marks launch of a reef building project.
Dibba Bay Oysters and Gin Mare share a deep connection with the sea, gastronomy and marine conservation. This March, we invite you to share this passion with us through a ten-day celebration featuring Dibba Bay Oysters specials, Dibba Bay Oyster pairing menus and Gin Mare cocktails.
BOCA has been serving only one type of oyster since 2018; Dibba Bay Oysters from the pristine waters of Fujairah, UAE. Thanks to the unique conditions of the ocean, which made Arabia world-renowned for its lustrous white pearls, the Dibba Bay oyster is thriving and continues to showcase the heritage of the region through its distinctive and vibrant white and gold shell. The unique qualities of the waters of the Emirates, which have been historically through the legendary white pearls, now live on through the Dibba Bay oyster shell.
Together with Gin Mare, who share a deep love and passion for the ocean, oysters and gastronomy, we come together to celebrate with special offers on freshly shucked oysters, specially curated pairing menu and new Gin Mare cocktail creations.
During the ten-day celebration, BOCA will offer special pricing on freshly shucked Dibba Bay oysters throughout the day and present a five-dish oyster menu and three Gin Mare cocktails for AED 260 per person. On the menu expect to see BOCA's SIGNATURE COOL SEASON DIBBA BAY OYSTERS with clementine and Gin Mare vinaigrette, Pure Harvest tomatoes and calamansi gel, OYSTER CROQUETTES with piccalilli mayo, ARROZ NEGRE with Indian Ocean Octopus, bergamot allioli, Spanish Bomba black rice and a DIBBA BAY OYSTER ICE CREAM or 'OYSCREAM' with cucumber gel, Opalys Valrhona chocolate and sea salt tuille. Gin Mare's creations are priced from AED 45.
Click here to see the menu
This celebration will support reef projects by local non-profit marine conservation organization AZRAQ. AZRAQ, in collaboration with the Freestyle Divers Conservation team, protects and propagates coral off the coast of Dibba, Fujairah, through the construction of coral nurseries and artificial reefs. Dibba Bay Oysters, BOCA and Gin Mare will help by collecting and transporting cleaned Dibba Bay oyster shells to be used as building blocks for creating habitat and ecosystems to support marine life.
Monday, March 21st: BOCA x Gin Mare Takeover of Dibba Bay Oyster Farm (invitation only event)
Tuesday, March 22nd: Launch of the special BOCA x Gin Mare x Dibba Bay Oysters in BOCA
21 – 31 March 2022 | All Day Offers | ½ Dozen Dibba Bay Oyster with Signature Dressing AED 96 | Five dishes and Three Gin Mare Cocktails AED 260 per person | Gin Mare Cocktails from AED 45
Advanced booking is essential | Guests can book through 04 323 1833, Whatsapp on 971521607507 or hola@boca.ae