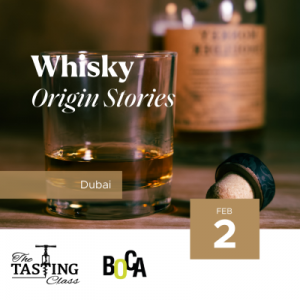 WHISKEY TASTING BY THE TASTING CLASS
Learn the stories of how American, Irish, and Scottish Whisky evolved thanks to the people, natural resources, and the politics of the day. Discover the key traits of each style.
What's included in experience?
A welcome drink of a classic Bourbon cocktail
Tasting of six whiskeys. The whiskeys we taste changes at each monthly tasting. But some of the brands we frequently profile include Bunnahabhain, Aberlour, Jameson, The Glenlivet, Bladnoch, Jura, Ardbeg, Kilchoman, The Dalmore, Glengoyn, Kavalan, Four Roses, Michters, & Jack Daniel's
A selection of light tapas dishes.
Guided lesson with a WSET certified spirit educator.
BOCA, Dubai
Date : 2 February 2022
Time : 7 PM – 9:30 PM
Please note: All our experiences include tasting samples of carefully selected alcoholic beverages, and we do not provide 'free-flow' or brunch experiences. Tickets for this event will close at 0900hrs on Tuesday 1 February, or earlier if sold out.
Click here to book and to find out more.