BOCA'S CULINARY EVOLUTION: MODERN SPANISH FLAVORS MEET SUSTAINABILITY
Chef Patricia Roig's New Menu Pays Homage to Andalucia While Pioneering Sustainable Dining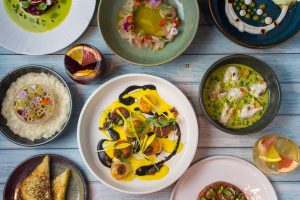 Experience a new chapter in BOCA's exciting culinary journey led by newly appointed Executive Chef, Patricia Roig. Hailing from Seville, Spain, Chef Patricia brings over two decades of global culinary expertise, including stints at Central Restaurante in Lima, Peru, Newman Street Tavern in London, MICHELIN star recipient Abantal Restaurante in Sevilla, Spain and more recently the Palocortado Restaurant group in Gran Canaria, Spain. Patricia brings with her a wealth of experience and a commitment to elevating our dining experience and sustainability practices.
MENU DIRECTION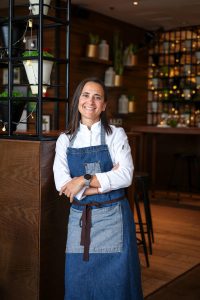 While we have retained some of the iconic dishes that have delighted guests for years, our new direction places a spotlight on inventive and contemporary Spanish flavors. We prioritize responsible sourcing from local, regional, and global producers and seek to showcase the potential of often-overlooked ingredients.
Chef Patricia Roig emphasizes our commitment to celebrating local farmers, fishermen, artisans, and responsible ingredient purveyors. She states, "Our culinary vision continues to honor these values while expanding to include traceable ingredients from sustainable farms globally, when local sourcing in the UAE is not possible."
In crafting our new menu, we draw inspiration from Spain's diverse culinary landscape, particularly Andalusian techniques, and Mediterranean flavors, reflective of Patricia's heritage.
TAPAS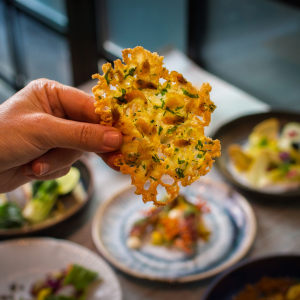 Anticipate pronounced Andalusian flavors in our tapas dishes, including the Tortillitas de Camarones, reminiscent of summer on the streets of Sanlúcar de Barrameda near Cádiz in Andalucia, in addition to Gambas Al Ajillo (Arabian Gulf shrimps in garlic), Padrón Peppers, Tortilla de Patatas (traditional potato omelet), and Beef Croquettes. "These are definitely the perfect start to any meal in BOCA" adds Patricia.
STARTERS, MAINS, RICE & DESSERT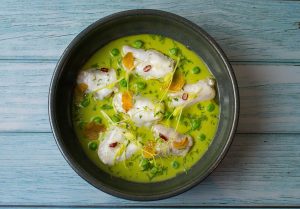 Our starters feature Green Gazpacho with local beetroot tartar, a refreshing cold Pistachio Ajoblanco with smoked tuna, Arabian Gulf Kingfish served like a ceviche with passion fruit leche de tigre, seaweed gel, and salicornia, and collagen rich Kokotxas de Bacalao (cod jowls) with green peas and parsley velouté.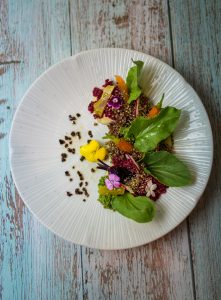 Don't miss our Superfoods & Desert Plants salad, incorporating organic quinoa, amaranth, and native desert plants from the UAE like 'Khobez,' 'Homaid,' and pickled 'Khansour,' complemented by roasted eggplant cream, cocoa nibs, and Dubai-grown edible flowers.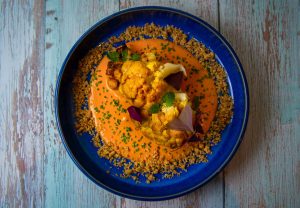 Main courses showcase star vegetarian dishes such as Roasted Cauliflower with romesco and pickled cauliflower leaves, and Seared Confit Artichokes with semi-dry cherry tomatoes, crispy sunchokes, and a vinaigrette made with native desert plant 'Shih.'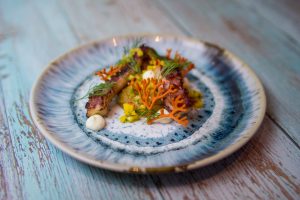 Seafood enthusiasts can indulge in single-line-caught Grilled Octopus with organic puy lentil curry purée, labneh, mango, and red chili dressing, or sustainably caught Seared Scallops served with sweetcorn, squid ink, and onion relish. Additionally, Arabian Gulf Seabream is presented with grilled local bok choy, dry sherry & green curry sauce, while a free-range 12-Hour Braised Lamb from New Zealand's Silver Fern Farms promises unmatched tenderness, accompanied by sunchokes and caramelized pearl onions.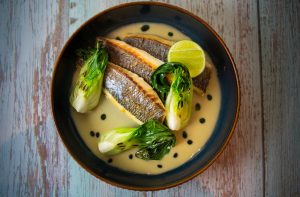 BOCA introduces a dedicated rice section with dishes prepared Paella-style, featuring Spanish Dinamita rice served dry (arroz seco) with a toasted bottom or creamy (arroz meloso). Notable among them is the Arabian Gulf Rice with wild-caught Gulf Threadfin Bream (aka Sultan Ibrahim), mussels, Gulf shrimp, and garlic allioli.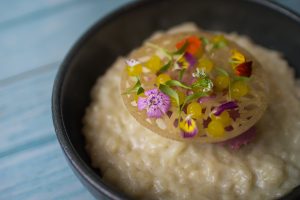 Desserts are a delightful fusion of Andalusian flavors, waste-reduction techniques, and cheese, lots of cheese! Tocino de Cielo showcases a rich creamy egg yolk, labneh, and uses all parts of the pineapple, while Coconut Arroz con Leche offers slow-cooked rice pudding with a blood orange sorbet, cardamom tuille, and saffron gel. The Idiazábal Smoked Cheese Custard is essentially the heart of the Basque Cheesecake, accompanied by vanilla shortbread, raspberry & white chocolate ganache, and pistachio.
TASTING MENU
"One of the exciting parts of the past few months work, in the lead up to this launch was curating a tasting menu experience, and working with Shiv Menon, Head of Hospitality and Beverage on the beverage pairing." comments Patricia. The result is a list of nine dishes priced at AED 395 per person including house-filtered BE WTR, with the option of pairing them with seven glasses of grape from sustainable producers, available for AED 645 per person. "The selection offers a storytelling experience, enhancing your dining journey." shares Shiv.
BOCA's ONGOING SUSTAINABILITY JOURNEY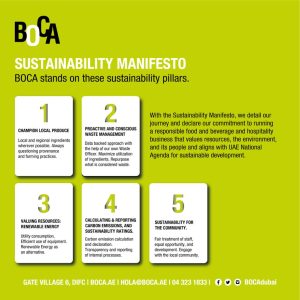 Omar Shihab, Founder and Chief Sustainability Officer at BOCA, expresses pride in this menu direction, emphasizing respect for provenance and sustainability. He notes, "Our menu avoids 'luxury' ingredients. We wanted to move the conversation away from burrata, caviar, truffle and wagyu and champion storytelling, paying homage to the place, and to our home in Dubai and the UAE. This is the culmination of what we have worked on for the nine years in BOCA." A newly introduced formal sourcing policy ensures systematic adherence to sustainable practices in all aspects of the restaurant's operations.
BOCA's commitment extends to a comprehensive sustainability framework covering respect for provenance, waste management, resource conservation, impact measurement, and community contributions.
"We are eager to share our sustainability journey with the food and beverage and the wider hospitality industry, locally and globally." Adds Shihab. BOCA's sustainability reports are included in the physical menus in the restaurant and are documented on the official website. The team welcomes collaboration and advocates for an overall positive impact approach, contributing to the global discussion on sustainability and conservation in the hospitality and food and beverage industry.
Click here to see BOCA's new menu. 
Prices are inclusive of 5% VAT and subject to 7% authority fees. For bookings guests can contact 04-3231833, WhatsApp on +971 52 160 7507, email hola@boca.ae.